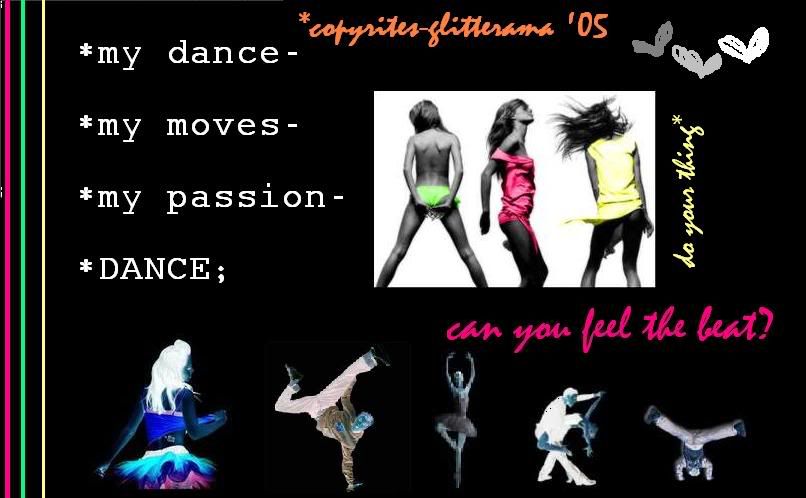 * Thursday, August 03, 2006

I MISS THE MUSICAL LIKE
HELL LOT :(!!!!

ALL THE FUN,MAKEUP,CHANGING OF COSTUMES,THE DANCES,THE GOING FOR REHEARSALS,THE TAKING BUS TO SCHOOL WITH NAT<3!!!! style="color: rgb(255, 0, 0);"><3 style="font-size:100%;">

Havent blogged for so long(:
Anyway, the musical is loved!!!
I'll always treasure those times we had(:
Bittersweet memories<<3
Ohwells.... i miss it so much:(
Yayness!!!! its my BIRTHDAY tomorrow!!!
Hahaha so fun!!!!
but i dont want to get old!
Okayy some pictures from the musical!


Pictures speaks a thousands words!!!
thats all im gonna post(:
SHERYL, i will send you the rest k(:!
SHERYE!!!! haha






DANCING*;
* Tuesday, July 25, 2006

ELMO
COOKIE MONSTER
SPONGEBOB
PATRICK

I LIKE<3

TUesday

celebrated founders day. it was really boring.
me, tiff,nicole and kimberly sat together on the floor in the Lt
when to the toilet with tiff,
she took really long to shit(:
hahah oh well, the toilet smelled of satay!
Cos some people were cooking satay for the guests just outside the toilet(:
Noey and ting got to help prepare
So coolio yo

After school, met up with sasa,debbo, cherilyn and sophia to practise carrying the cross!
It was hella heavy!
i pity esther!!!!
Even with 6 people helping out now,
the cross was still so heavy!!!
I substituded esther(:
Later went holland with them
and yiling and gabby<<3

Got a present and a card for sharon
and we sent it by mail.
Hahah speedpost!
Debbo left after getting the present.
We spent super long at burgerking
talking and talking and laughing!
So fun!!!
okayyy and an occasional gossiping(:
saw gays at burger king.
Hahaha then walked around looking for a card
when to cold storage to get sweets and chips
for the musical.
Went to party city,
they had coolio stuff ya'll!
Party hats, party stuffs!
So fantabulious!!!!!
OH! and all of us were so broke.
Pathetic! it feels so bad being broke :(

Saw denise keller!!!
Then went home with gabby(:
Yiling so rich, took a cab!
Bought natural confectionary
sweets!
tEddy!
And this pack of sweets from party city
made in canada
coolio, it tasted super!

Fell sick that night. So im not going for the last musical rehearsal today!
I feel so blue:(
It's gonna end real soon.
I kinda enjoy all the musical practices
even though i loathe it so much
I despise the fact that the food tasted horrible
and the long practice duration
the many months of practising!!!!
and how late i'll get to sleep at night!

It's like dance night<3 in repeating!




i wish i could soar with you
dream a little dream with me
<<3

Reply to taggs!

Annon: From my profile coluum, scroll all the way down and u can see it!

Name: Thanks hahah(:

Huiting: yea i'll link you!




DANCING*;
* Thursday, July 20, 2006

FLORIDA'S NATURAL
JUICE NUGGETS
ARE
DELIGHTS<3

Had fun during pe lesson today!
We got to play a game that has
got the basic rules for of softball(:
The rest of the day was quite slack!

Discovered that my leg was bleeding,
there was this blood clot up thing!!!!

CANT WAIT TILL TOMORROW YA'LL
DANCE/MUSICAL!!!!
HOW COOLIO IS THAT!
i HOPE IT WILL RUN WELL
EVEN THOUGH I THINK THE DANCERS DONT AFFECT MUCH OF IT(:

AS WHAT MRS NAT LIM SAID"
LET GOD'S MAGIC BE UPON THIS MUSICAL"!

Haha something like that!

Oh i want to go to CANDY EMPIRE!
but i'll spend alot of money there cause,
i'll be succumbed by those alluring eye-candy!
I love CANDY and CHOCOLATES!
Melts my heart
So fire it up!!!!!

... ... ...

She aint not a good dancer
yet she brags about being super good in her blog
she criticises people for their dressing
but can she dress well?
oh pls mama she cant.
She tells people different stories
so how would she expect anyone to believe her
Stop being sucha loser
you aint your real self at all
Wake up! and stop being a fool
Cause others will see through you sooner or later
You're just escaping from the facts
Denying it does not help!
i shan't say anymore
.... .... ....

Anyway FLORIDA'S NATURAL NUGGETS
ARE HELLA GOOD!
IT DOES NOT FAIL TO CHEER ME UP<3

DANCING*;
* Wednesday, July 19, 2006

WHITE CHOCOLATE
ICECREAM
WITH
MARSHMALLOWS
IS
LOVE<3

Hahaha going back to school later
for musical till 10pm.
Gonna meet up with esther and nat!
So coolio,
they will be filming us ya'll (:
Hope i dont screw up people!
Hope we dont screw up

I SPILLED LASKA ON THE FLOOR!
DURING RECESS :/ today
MY SHOES, UNIFORM HAD LASKA.
THE TABLE AND CHAIR HAD LASKA
GALE AND CHARISSA'S UNIFORM GOT LASKA!
iM SORRY!
<33

Oh mama! why do i have butter fingers?!?!
i have been dropping stuff
and spilling stuff.

Anyway as usual, lessons were like so bored!
I really wanted to sleep so badly!
Used davelle's refresher(:

bye all you bunch of sexy ladies!
hahahahahah that sounds
lame!

Hahaah

"SO LAME
SO COOL
WHATEVER!!!!!!"

DANCING*;
* Friday, July 14, 2006

Val im updating my blog.
Hahaha happy?!?!?!?!
Yea anyway im randomly watching
the singapore soccer team play on tv
and i tell you, they ......
Hahaha so way off compared to those who played in the
world cup.

I got warned for short skirt!!
stupid freaks. My skirt isnt short luhh!
Some other girls' skirts are like
way shorter than mine!
and they dont get booked.
Anyway im not going to bother(:
i wont buy a new one,
waste money!
i'll just lengthen it!!!!

Okayy enough of that!
Now i have to think of a day when im free so i can
tell yuen and jack about it.
They want to meet up.
Hahaha me too(:
But with the musical practices
and dance,
there isnt much time.
Musical practices ususally end at 10pm plus.

Oh well....i'll try.
Oh and
I MISS MICHELLE TOO!
<<3

and i think tiffany is pretty! (:
Hahahah
bye!

note! Tiffany.... are u reading this(:
Hhahaah and and
i need to buy lots more sweets. so that i can bring to school and share it with
manda and davelle during *****!!!!!




im falling glamourously down <3


DANCING*;
* Tuesday, July 11, 2006

i dont wanna GROW up!
Cant believe how kiddish i was
the last time.....
I remembered being bullyed in primary1
and i hated school so much :/
those bunch of people kept blaming me and getting me into trouble!
and yea.
Oh and what i use to think was nice
is now like totally WAY WAY off.


Hahaha okayyy
i hate being emo...
stupid, sometimes i wonder wad it' would be like without emotions!!!
Hahaha sounds cool i guess.

Bye....im suppose to study physics!
concentrate!!!

DANCING*;
* Thursday, July 06, 2006

PORTUGAL LOST TO FRANCE
0 - 1

SO SAD!
AND NOW I'VE TO SAY
GOODBYE TO MY
MONEY$

I BET WITH DARREN $5 THAT IF PORTUGAL<3 style="color: rgb(0, 0, 0);">

E
verytime our eyes meet

This feeling inside me

Is almost all that i can take

Baby, when you touch me
i can feel how much you love me

and it just blows me away
i've never been this close to anyone, anything
i can hear your thoughts
i can see your dreams


I dont know how you do what you do
i'm so in love with you, it just keeps getting better
i wanna spend the rest of my life with you by my side
Forever and ever
Every little thing that you do
Baby im amazed by you


The smell of your skin
The taste of your kiss
The way you whisper in the dark
Your hair all around me, baby you surround me
You touch every place in my heart
Oh, it feels like the first time, everytime
I wanna spend the whole night in your eyes

I dont know how you do what you do
I'm so in love with you, it just keeps getting better
I wanna spend the rest of my life with you by my side
Forever and ever
Every little thing that you do
Baby im a amazed by you

Every little thing that you do
I'm so in love with you
It just keeps getting better
I wanna spend the rest of my life with you by my side
Forever and ever
Every little thing that you do
Oh, every little thing that you do
Baby im amazed by you.....

Hahaha this song is pretty old!
By trademark.
I was singing it last night!!!
Hahahah and i sounded off-key(:
i think!

Okayyy anyway i think im going out with esther and joan SALIM tomorrow
to look for our costumes(:
Bye


Reply to den:

Hey den <<3>
DANCING*;